Men or Women – Who are Better in Parking?
The report favours the women in this area and spotlighted some interesting facts.
Have you ever gone through a parking lot where you tut at the other drivers who have overlapped or parked stupidly? There are many comprehensive studies showing why rough parking occurs and who contributes more to it, men or women.
According to recent researches,  women are better at retaining the parking information while most of the men are found to be overconfident and ultimately forget the spot or important information regarding the off-site parking lot.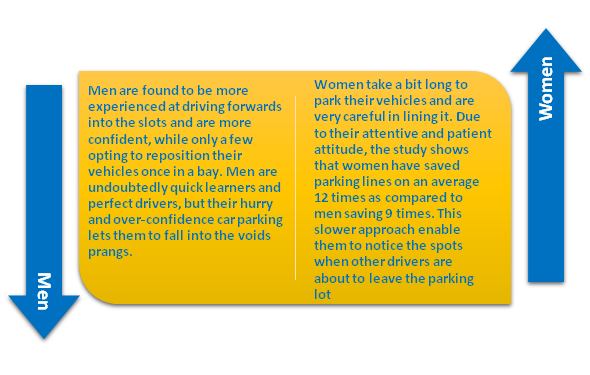 Meet and greet Manchester is a perfect choice for all the passengers due to its simple, convenient and comfortable parking services. The service accomplishes the passengers with reliable drivers and allows a quick and fastidious check-in to the departure terminal.
Meet and greet comes with the below benefits:
Appoints dedicated chauffeur for the parking and retrieval of the car
Enhances the travel with the guaranteed parking slot
No need to struggle with heavy luggage
No need to wait for the shuttles
Get rid of self-parking troubles
The vehicle will be picked and delivered to you as soon as you reach the airport on arrival and departure
EzyBook truly understands the requirements of its customers and ensure a smooth beginning and ending to your trip. Compare airport parking deals to secure an authenticated and hassle-free parking service for your car.