What Questions Must Be Asked Before Booking Meet and Greet Service?
There is not a single doubt that meet and greet Stansted is the most popular and comfortable parking service of the modern era. But still, it is very important to understand the working of this service to avoid any risks. Check out the authenticity and reliability of the parking amenity before proceeding with the reservation process. Before completing the booking process make sure to:
Understand the service thoroughly
Avoid scams and only opt for trustworthy parking services
The second point is more important because there are various companies which are fraudulent and don't have secure car parks. Lets us proceed towards the questions which you must inquire before reserving a specific service:
Where will we meet?
Usually, the driver meets the passenger outside the airport terminal, but a few companies collect the vehicles from short term car parks. Hence, it is really important to clear this point before leaving home.
Where will my vehicle be parked?
To ensure the safety of your vehicle, you must ask where your car will be parked. You can also check the distance covered by the vehicle to get an idea where the parking compound is located.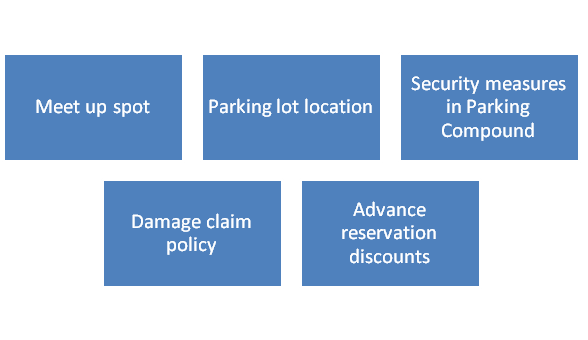 What security measures are being taken in the parking lot?
To make sure that your car will be safe and secure, ask the amenity about the security measures they are taking for the safety of the cars.
What is the policy to claim any damage?
Go through the terms and conditions of the particular service to check the criteria and procedure to claim any damage. You can also ask any questions that may arise in your mind directly from the company representative.
Does Pre-booking offer any discount?
There is nothing wrong in availing the discounts without compromising the quality of services. Check out for any discounts that you can avail with the pre-booking.
Although most of these questions are usually answered by most of the parking amenities in the confirmation email that is sent after the booking it is still important to find them out ahead of making payment to clear any doubts., so that you have the chance to back out in case you are not satisfied.
Once the reservation procedure has been completed, make sure to:
Check the details being sent in the confirmation email
Call the service 20-25 minutes ahead of leaving your home for the airport
Follow the instructions sent in the email
Upon your return, check out for any damages on your vehicle. If you find any, do not forget to claim before leaving for home
Avail compare airport parking services to ensure the security of your car in your absence. Happy travelling!