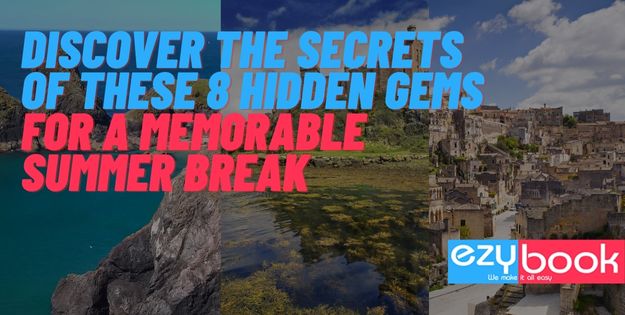 Discover the Secrets of These 8 Hidden Gems for a Memorable Summer Break
As the warm embrace of summer draws near, thoughts turn to planning that long-awaited summer break. While popular tourist destinations tend to steal the limelight, a world of hidden gems is waiting to be discovered. Let us help to whisk you away from the well-trodden path, embarking on a journey to explore unique and unconventional getaways that promise unforgettable experiences. So, pack your suitcase, step away from the masses, and immerse yourself in the charm of these lesser-known destinations, which boast untapped beauty and tranquillity.
The Lizard Peninsula, Cornwall:
If you yearn to escape the relentless buzz of city life, look no further than the serene Lizard Peninsula in Cornwall, England. This hidden gem offers the perfect haven for nature enthusiasts with its sweeping coastline, rugged cliffs, and glistening azure waters. Meander through picturesque fishing villages like Cadgwith and Mullion, where time stands still. Breathe in the salty sea air as you explore the enchanting landscapes of Kynance Cove or marvel at the unique serpentine rock formations. To make your journey even more convenient, consider pre-booking airport parking in advance, allowing you to begin your adventure when you leave home seamlessly.
Embracing Tranquility, Isle of Skye, Scotland:
Nestled amidst the majestic beauty of the Scottish Highlands, the Isle of Skye beckons with its untamed landscapes and ethereal charm. Known for its dramatic peaks, rugged coastlines, and mystical lochs, this remote island offers a chance to reconnect with nature in its purest form. Delve into the fairy-tale-like landscapes of the Fairy Pools or hike to the iconic Old Man of Storr, where breathtaking vistas await. To fully immerse yourself in the tranquillity of this captivating destination, consider planning your journey well in advance and availing yourself of airport parking services, ensuring a hassle-free start to your exploration.
Journey to the Heart of History, Matera, Italy:
Step back in time and delve into the ancient city of Matera, tucked away in the southern region of Basilicata, Italy. Recognised as a UNESCO World Heritage site, Matera is renowned for its distinctive cave dwellings, known as "Sassi." Wander through narrow alleyways and marvel at the unique rock-cut churches that tell tales of centuries gone by. To make your visit even more seamless, opt for airport parking services, providing you with peace of mind and easy access to the journey that awaits.
Marvels of Nature, Plitvice Lakes National Park, Croatia:
For those seeking solace in the embrace of nature, Plitvice Lakes National Park in Croatia is an absolute must-visit destination. An Eden of lush forests, cascading waterfalls, and interconnected lakes, this untouched gem will leave you spellbound. Meander along the wooden footbridges that crisscross the park immersing yourself in the symphony of colours and sounds that Mother Nature has crafted. To ensure a stress-free start to your adventure, take advantage of airport parking facilities, enabling you to seamlessly transition from your arrival to the mesmerising wonders of Plitvice Lakes National Park.
Cultural Oasis, Chefchaouen, Morocco:
Tucked away in the breathtaking Rif Mountains, the city of Chefchaouen stands as a hidden gem in Morocco. Known as the "Blue City," its narrow streets are adorned with houses painted in various shades of blue, creating a surreal atmosphere that captivates the senses. Lose yourself in the labyrinthine medina adorned with vibrant markets selling traditional handicrafts. Indulge in the aromatic delights of Moroccan cuisine while immersing yourself in the rich blend of Arab and Berber cultures. To enhance your travel experience, consider utilising airport parking services, ensuring a seamless transition from your departure point to the vivid tapestry of Chefchaouen.
Tranquillity amidst Nature, Lake District, England:
Escape to the picturesque Lake District in northwest England, renowned for its stunning landscapes and serene lakes. Explore the charming towns of Ambleside and Keswick, nestled among rolling hills and sparkling waters. Take a leisurely boat ride on Lake Windermere, the largest natural lake in England, or embark on a hike through the rugged fells, breathing in the fresh mountain air. To make your visit stress-free, consider the convenience of airport parking services, allowing you to begin your adventure seamlessly.
Timeless Beauty, Hallstatt, Austria:
Venture into the captivating Alpine region of Austria and discover the enchanting village of Hallstatt. Nestled between the towering Dachstein Mountains and the serene Hallstätter See, this fairy-tale-like destination is a sight. Wander through its narrow streets, lined with colourful buildings adorned with vibrant flowers, and immerse yourself in its rich history and culture. Explore the Hallstatt Salt Mine or take a boat ride on the tranquil lake, surrounded by breathtaking scenery. Consider airport parking services to make your journey to this hidden gem as smooth as possible.
Arashiyama Bamboo Grove, Kyoto, Japan:
Find tranquillity amidst the towering bamboo stalks of the Arashiyama Bamboo Grove in Kyoto, Japan. Walk along the enchanting bamboo pathway, where sunlight filters through the dense foliage, creating a magical atmosphere. Discover the nearby Tenryu-ji Temple, a UNESCO World Heritage site, or take a traditional rickshaw ride through the serene streets of Arashiyama. If you are travelling with your family and wishing to start your journey stress-free, consider airport parking services, ensuring a smooth transition to this serene and captivating destination.
The Importance of Off-Site Parking for Travel:
It is essential to consider transportation logistics, including parking options when organising your retreat and wellness travel. Off-site meet and greet Gatwick, such as Ezybook parking, offer a secure and convenient solution for your vehicle. With readily accessible parking facilities near airports, you can enjoy a stress-free departure and arrival, safe in the knowledge that your vehicle will be stored securely for the duration of your retreat. Check the airport parking deals rate before departure to ensure a hassle-free trip.
Summary:
This article explores eight off-the-beaten-path summer getaways. The Lizard Peninsula in Cornwall, England, is famed for its craggy cliffs and peaceful beach. We visit Scotland's Isle of Skye, with its wild scenery and magical lochs. We explore Italy's Matera, an underground city. Croatia's Plitvice Lakes National Park's verdant woods and waterfalls captivate. Chefchaouen, Morocco's blue-painted streets and lively marketplaces mesmerise. England's Lake District offers peaceful scenery and lakes. Austria's Hallstatt hamlet is charming and historic. Finally, Kyoto's Arashiyama Bamboo Grove provides tranquilly among tall bamboo. Off-site parking near airports ensures a stress-free departure and safe car storage during your getaway.