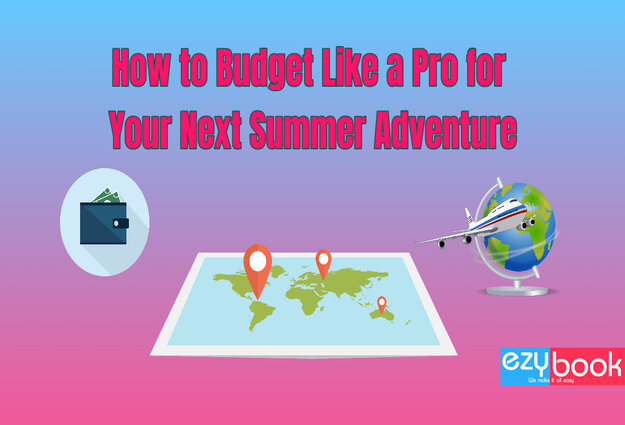 How to Budget Like a Pro for Your Next Summer Adventure
Summer vacations are eagerly anticipated, offering a well-deserved opportunity to unwind, explore new destinations, and create cherished memories with loved ones. However, to make the most of your summer getaway, it is crucial to plan your budget effectively. In this article, we will guide you through budgeting for your upcoming summer vacations, ensuring you can relax and enjoy your holiday without financial stress. We will also discuss the importance of airport parking and highlight Ezybook, a reliable parking comparison platform that can make your travel experience even more convenient.
Airport Parking:
One aspect of vacation planning that is often overlooked is airport parking. Securing a safe and convenient parking spot for your vehicle is essential to ensure a smooth start to your trip. This is a trusted company that offers a range of affordable airport parking for Luton UK and secure yourself from travel hurdles.. Pre-booking your parking spot through Ezybook saves time and money and eliminates the hassle of finding a parking space upon arrival. Their professional and friendly staff will take good care of your vehicle, providing peace of mind throughout your vacation.
Assess Your Finances:
Before embarking on any vacation, assessing your finances realistically is essential. Look closely at your income, expenses, and savings to determine how much you can allocate towards your summer trip. Consider accommodations, transportation, meals, activities, and souvenirs. Knowing your financial situation well helps you create a budget that matches your income and expenses.
Research Your Destination:
Researching your destination is a crucial step in planning your summer vacation budget. Look for information about the accommodation cost, local transportation, food, attractions, and any additional expenses specific to your chosen location. Take note of seasonal price variations or special offers that may affect your budget. You can anticipate potential costs and adjust your budget accordingly with thorough research.
Set Priorities:
With a limited budget, it's essential to set priorities and identify your vacation's most important aspects. Do you value luxurious accommodations or unique dining experiences? Are you more interested in exploring local attractions or engaging in adventure activities? Determining your priorities allows you to allocate your funds accordingly, ensuring you make the most of your vacation within your budget constraints.
Create a Detailed Itinerary:
Planning a detailed itinerary can help you estimate your expenses more accurately. Research the attractions and activities you wish to experience and their associated costs. Consider additional fees, such as entrance, guided tours, or equipment rentals. You can estimate your daily expenses and adjust your budget by having a day-to-day breakdown of your activities.
Allocate Funds for Unexpected Expenses:
While planning your budget meticulously is essential, it's equally important to allocate some funds for unexpected expenses. Emergencies, last-minute changes, or spontaneous adventures may arise during your vacation, and having a contingency fund can save you from financial stress. Aim to set aside a small portion of your budget for unforeseen circumstances.
Look for Ways to Save:
Budgeting means maintaining the quality of your vacation. There are several ways to save money without sacrificing enjoyment. Consider alternative accommodation options like vacation rentals or budget-friendly hotels. Look for local eateries where you can savour authentic cuisine at affordable prices. Take advantage of free or low-cost attractions and explore the natural beauty of your destination. Additionally, watch for discounts, travel deals, and promotional offers that can help you stretch your budget further.
Track Your Expenses:
During your vacation, it's essential to track your expenses diligently. Record all your expenditures, including meals, transportation, activities, and souvenirs. This will allow you to stay within your budget and identify areas where you may be overspending. There are several smartphone apps available that can help you track your expenses conveniently while on the go.
Summary:
Planning your budget effectively is the key to enjoying your upcoming summer vacation without financial worries. You can ensure a memorable and stress-free holiday by assessing your finances, researching your destination, setting priorities, creating a detailed itinerary, and allocating funds for unexpected expenses. Look for ways to save money without compromising on the quality of your vacation, and remember to track your expenses diligently. With careful planning and smart budgeting, you can maximise your summer getaway, creating cherished memories that will last a lifetime. And when it comes to airport parking deals in the UK, Ezybook is here to provide a convenient and reliable parking solution, ensuring a smooth start to your well-deserved vacation. Happy travels!