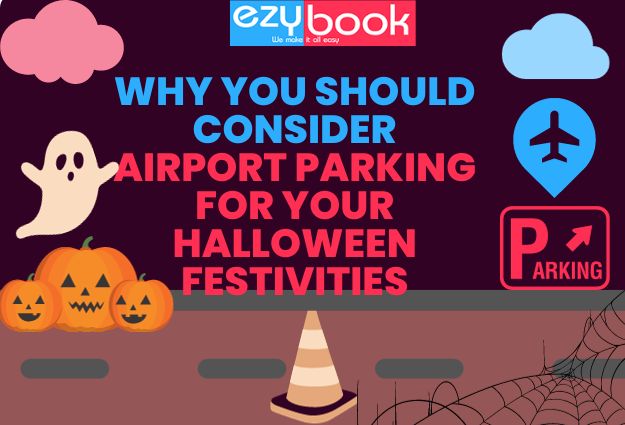 Why You Should Consider Airport Parking for Your Halloween Festivities
The word "Halloween" conjures up images of ghost stories, eerie occurrences, and the unexplained for most people. However, in a world that is more interconnected than it has ever been before, many people in the United Kingdom have discovered an unanticipated connection between the Halloween celebrations and the difficulties of airport parking.
The Origins of Halloween: A Brief Overview
The shadowy veil of Halloween finds its roots deep in the ancient Celtic festival of Samhain. As the cold winds of autumn swept across the verdant landscapes of the British Isles, the Celts marked the end of the harvest season. Samhain wasn't merely an agricultural landmark; it was a spiritual gateway. A time when our world and the spectral world converged.
Yet, as centuries rolled on and Christianity became more entrenched in British culture, Samhain morphed, borrowing elements and reshaping into what we now recognise as Halloween. Today, it's a time of fun, frolic, and, of course, a bit of friendly fright.
Pre-Halloween: Preparing for Both Celebration and Travel
Before the ghouls and witches descend, there's always a flurry of activity. Costumes to pick, homes to decorate, travel plans to finalise, and yes, airport parking to book!
This pre-Halloween period is characterised by lists, plans, and anticipation. For those intending to travel, it's the thrill of the journey combined with the excitement of festivities. There's something deeply satisfying about ensuring everything is in place, from the perfect spooky outfit to securing the best parking spot at the airport.
Platforms like Ezybook play a crucial role during this period. While you're busy setting up your Halloween décor, a few clicks can ensure your vehicle has a safe spot while you're away. And let's admit it, in the midst of the pre-festive rush, every bit of convenience is a blessing.
Moreover, for those staying close to home, preparations involve carving pumpkins, setting up the home for a party, or planning a trick-or-treating route for kids. As the days lead up to Halloween, there's a palpable energy in the air. It's a mix of eagerness for the celebrations ahead and, for some, the adventures of a Halloween-inspired journey.
The role of seasonal festivals in boosting travel desires
The UK, with its rich tapestry of traditions and festivals, is no stranger to seasonal surges in travel. Think about it—from Christmas markets in winter to beach escapes in summer. Yet, Halloween offers something distinct. It's a mix of the eerie and the exotic. With its Celtic roots, there's a profound cultural and historical resonance for many Brits.
It's intriguing how these festivals, deeply rooted in our cultural psyche, stir the urge to travel. Halloween, with its intriguing blend of myth, magic, and modern celebrations, adds a layer of anticipation. A brief escape from routine right before winter fully sets in
The festival's motifs—wandering spirits and mystical journeys—are echoed in the travels of many Brits during this time. Whether it's a short escape to a countryside manor rumoured to be haunted or a trip to cities like Edinburgh or York to soak in their ghostly histories, Halloween amplifies the UK's travel buzz.
Modern Halloween Festivities
Each October, British streets come alive with eerie decorations and gleeful children dressed as everything from goblins to princesses. The air is thick with excitement and, sometimes, a hint of winter's impending chill.
As for costumes, while classics like witches and vampires are perennial favourites, every year brings its own flavor. Remarkably, the spirit of adventure seems to be in the air, with aeroplane pilot outfits making a fashionable entrance this year. Might this be a reflection of the nation's pent-up desire to travel after the challenges of the past few years?
Moreover, what's Halloween without a good old-fashioned house party? Homes across the UK are transformed into haunted mansions or mysterious castles, with families hosting parties replete with spooky tunes, ghoulish games, and delightful treats.
Halloween and the Travel Rush: A Surprising Intersection
For many Brits, Halloween isn't just about local festivities; it's an opportunity. An extended weekend, perhaps, to explore a new city or revisit a favourite haunt. This uptick in travel during the Halloween period is noticeable. Airports are abuzz with families, solo travellers, and couples, all eager to embark on their own Halloween adventure.
However, with this surge comes a rather mundane but essential challenge: airport parking. Finding reliable and cheap airport parking, especially in busy hubs like Gatwick, can test the patience of even the most seasoned traveller.
Your Halloween Airport Parking Solution in the UK
This is where Ezybook strides in, transforming the oft-dreaded task of securing parking into a breeze. As a comprehensive platform tailored for the UK audience, they offer travellers a buffet of choices when it comes to parking options. Whether you're seeking long stay parking Gatwick or a secure spot, they have got you covered.
But wait, there's more! In the spirit of Halloween, we've conjured up something special. For those booking their airport parking this season, use the coupon code 'ezy-suc035' to avail of an exclusive discount. Now that's a treat without any tricks!
Tips and Tricks for Stress-Free Airport Parking This Halloween
Booking early is more than wisdom; it's a necessity, especially during peak travel times. By planning ahead, not only do you secure a spot, but you often get the best rates.
While on the topic of rates, don't pay a penny more than you need to. Platforms like Ezybook empower travellers by providing a comparative landscape. This means you can compare prices, delve into reviews, and choose the best option for your needs.
Lastly, peace of mind is priceless. Always ensure that the parking facility you select prioritises security. After all, while you're off enjoying your Halloween getaway, your car should be safe and sound.
Making Halloween Travels Ezy and Spooky-Free!
So, as the 31st of October approaches and you're getting ready to don that fabulous costume, remember: whether you're dancing the night away at a local party or jetting off to distant shores, make the smart choice for your airport parking. With Ezybook, you're not just choosing convenience; you're opting for peace of mind. Here's to a Halloween filled with delightful scares and travel fares that don't spook your wallet!