Which Items are Allowed to be Carried While Travelling?
Are you excited ad ready to take your flight, but are you concerned about the airport security & the customs department to unpack your luggage and to take out some of the things which are not allowed while travelling by air. Such situations are really annoying, especially while travelling with small children.
To get rid of such annoying situations, you must avoid things that are not allowed at the airport.  The rules for airport security and customs are almost similar all around the world with a few exceptions. In this blog, we will try to get you familiarized with those allowed or banned things.
Check out latest long stay parking Luton deals to secure hassle-free parking arrangements for your vehicle.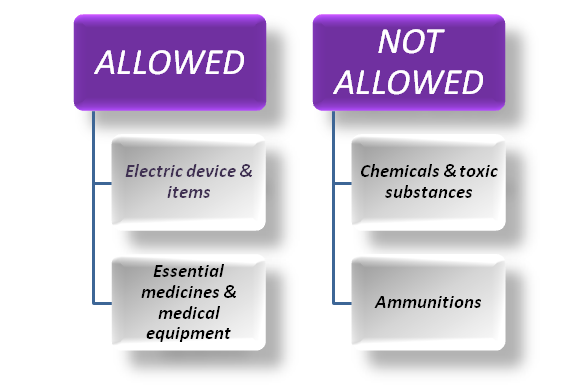 All types of liquids or semi-liquid food, drinks, syrups, lotions, oils and perfumes to carry in your luggage. But a limit of 100ml is applied to it. In exceptional cases like medical reasons, dietary requirements, baby food or baby milk you can carry liquid more than 100 ml.
The wheelchair or any walking aid is allowed in the cabins, but if you have a battery-powered wheelchair you must confirm it with your airline. In case of any large musical instrument, you need to inform your airline ahead of departure.
Essential medicines & medical equipment
You are allowed to carry essential medicines or equipment with you, but do not forget to bring a note from the doctor as proof regarding certain medications.
Cell phones, laptop, electric shower, and travel iron are among the things that are allowed to carry with you.
All kinds of sports types of equipment are okay to be carried in your luggage.
Work tools, chemical, and toxic substances
Wrench or spanner pliers, tool with a blade or shaft, hammer, screwdriver, etc., are allowed to be carried in hold luggage.
Chemicals & toxic substances
Chemicals or toxic substances like oxidizers and organic peroxides, including bleach and car body repair kits, acids & alkalis, corrosives or bleaching agents, vehicle batteries and fuel systems, are strictly not allowed to be carried in the luggage.
Blasting caps, detonators, fuses, imitation explosive devices, fireworks, pyrotechnics, smoke canisters, smoke cartridges, dynamite, gunpowder, plastic explosives, are not allowed both in the check-in or carry luggage.
You must know that your complete luggage would be screened or checked thoroughly in necessary.
For avoiding any other nuisance travelers are advised to reach the airport 2 to 3 hours ahead of the travel so that other important things could be managed easily, as arranging a secure parking service for a car is also a time taking activity.
Compare airport parking services and get ready to enjoy a stress-free stay at the airport.